ShipView is a unique product for commercial ship management, administering insurance covers and claims for ship and drill rig owners. Takes care of all from budgets to analytical non-conformance handling. Handles the most complicated splits and nesting that are applied in marine insurance covers. Featuring all common reports and summary screens, plus a number of extended features. With an easy and intuitive user experience.
For your organization?
ShipView is designed to give a superb view for the ship owner. The profile is obvious throughout the system, when working with insurance covers, budgets, fleet, cash flow, non-conformance incidents, insurance claims and so on.
Ship owners supervising insurance management: Yes!
Commercial ship managers with insurance tasks: Yes!
Operational and technical ship management: Yes.
   Specially if cooperating with the commercial managers
Marine insurance brokers: For some.
   This is not exactly what all brokers want to show!
Company size?
While ShipView is targeted for large ship owners, the system will make earnings even in modest scenarios. Some of our customers have estimated for us, that ShipView will fit anyone that:
Has 5 or more vessels
Some or all insurance tasks are carried out in-house
What does ShipView do?
Each of the following points are significant:
Save time of personnel
Get the best insurance cover rates
Avoid losses from over- and under-insuring
Improve overall claim settlements
Improve public image of your company
Contentment of personnel
Result: Profit in the 6th power!
With ShipView,  both insurance coverage and claims of the entire fleet is completely managed, with primary focus on economy!
Coming up
Insurance companies and brokers can also benefit from ShipView, by getting an competitive advantage providing ShipView license leases and corresponding data for customers.
By targeting management companies or ship owners, document data like statements of claim and adjustments can travel easily between the parties. Today, ShipView already meets the technical requirements for integration, with excellence, using carefully designed Web Services and XML data.
There's yet no visible provider market for this special case. Some day the clients of insurers and brokers may constitute a market for standardized data, saving the clients for lots of time consuming punching of data. This will definitely not happen tomorrow, and we have seen convincing proof of negative attitude among insurance companies and brokers.
Our customers have been very happy a long time, though! There's really no need to wait! Standardized data will be exchanged automatically as you like, from the day the other guys are ready!
---
Prices, product editions & options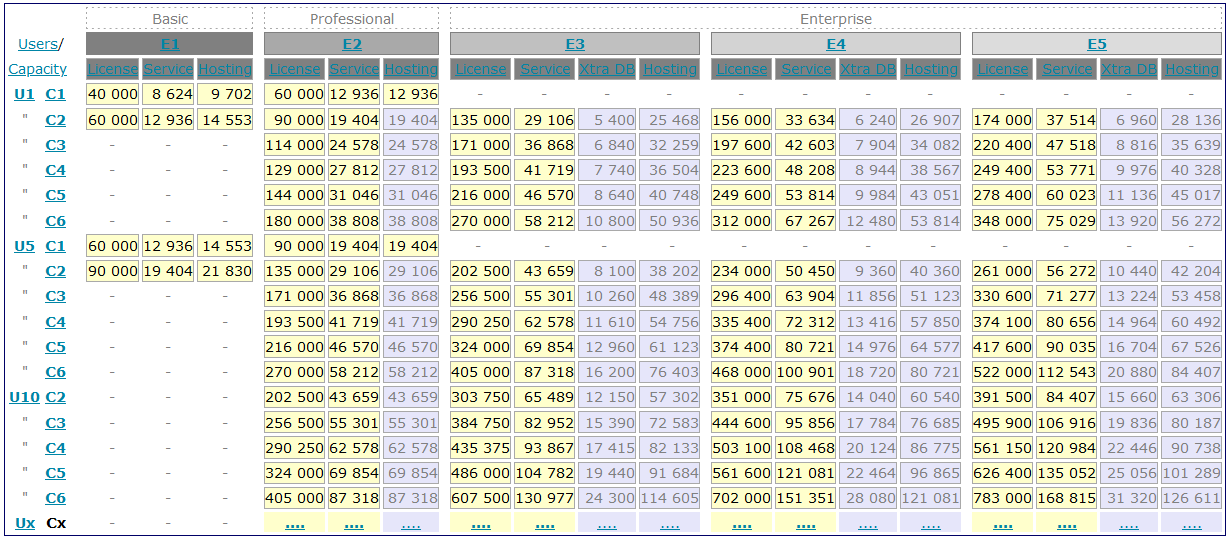 General terms
Currency NOK applies to the table of prices.
The amounts are less local taxes that may apply, but otherwise all-inclusive as you sum:
License: License of use (required)
Service: System service (required)
Hosting: NetStorm Internet Hosting Service (optional)
Definitions, terms and conditions in full detail can be found in the standard agreement form.
Licenses
As with most vendors, we use the term license so that an user organization commonly need one license for one or more users (as opposed to one license per user).
Notation
There are 5 "dimensions" in which you can expand an license:
E    : Functional editions and modules
U    : Number of users
R: Number of readers (read-only limited users)
C    : Data capacity (usually measured in number of assets managed by the system, for example vessels or drill rigs)
D: Technical installation extras (for example, using a local Oracle database)
The size of a license has a notation ("CRUDE form") where each letter is followed with a number for the "dimension size".
For example, the full product/edition names "ShipView E3U5C2" or "RangeView E3U5C2" describes a license with functional edition 3, max 5 users, no readers, capacity level 2 (max 50 vessels) and no installation extras.
Bear with us, we'll explain our edition level system. It is put together for making you pay for no more than you need.
User levels
Number of named users that can log on and edit data; available levels:
U1    : Single user license.
U5    : 2-5 users.
U10    : 6-10 users.
UX: 11+ users.
Contact us for price in cases of more than 10 users.
Read-only licenses
You may purchase additional Read-Only access to have extra users at a lower cost. We call them readers instead of users.
The only operational difference between readers and users is that readers cannot add or update to your data-space. Update and Add buttons are unavailable in the screens.
At all times, the reader can see all screens and reports.
A reader can be upgraded to a user, and a user can be downgraded to a reader, at any time. Currently, such operations affect the license setup and are handled by NetStorm. But it takes only a minute or two after contacting us.
There are 3 "rules" that complete the reader concept:
Adding readers does not increase the annual software service service fee. At the same time, readers cannot claim software service directly from NetStorm. A reader needing assistance would have to rely on local users for support, and eventually channel a problem to NetStorm through the user administrator.
Readers are half the price of regular users.
   More accurately, if you consider upgrading the license to the next user number step, and calculate the price for a single of the new users, the reader would cost exactly half.
Moreover, readers can be purchased one by one, up to a number equal to the number of users in the license.
You should really consider readers for your license.
Remember, NetStorm does not offer arrangements for a custom number of users. There's nothing between the packages of 1, 5 and 10 users. You would have to buy a 5-pack if you need 2 users.
But, if one of the potential users doesn't need more than reader functions, you could definitely save money.
Here's an example:
You have an U5 (5 user) license costing 234000. You have 5 active users, but now an executive wants to be able to query data directly. Upgrading to U10 would cost 117000 (315000 less 234000), while an extra reader costs only 17550.
Editions levels and modules
The functional edition levels are for scaling down costs with a license. This way, organizations with moderate requirements can get started at lower cost. Each edition is a collection of modules that we carefully put together as a "step-up package", available in levels:
E1    : Standard
E2    : Professional
E3    : Enterprise/3
E4    : Enterprise/4
E5: Enterprise/5
E1: Standard edition
All basic functions for managing insurance coverage. Incidents and insurance claims are not handled in this edition. Suitable for ship owners up to medium size, or as an entry level product for any company that not yet can decide wether the claims managers, QA and technical managers will take part in the system.
E2: Professional edition
This is the edition that most ship owners will choose.
E3: Enterprise edition/3
This edition is for large enterprises managing a substantial fleet. Systems integration has been highly focused.
As previous, with more modules:
[#6] Multiple claim stages
[#9] Incident journal
[#15] Incident Classification
An abnormality tracking system. Incident analysis based on multipoint hierarchical classification systems. With selection of preferred classification standard.
[#19] XML output of reports
[#20] Comprehensive database documentation
Access to extensive data storage documentation, for all kinds of data mining and making of own custom reports.
[#21] Services for advanced database use and integration
Basic integration with other systems like technical management and accounting systems, plus two-way xml/web service data targeting the insurer/broker. Possible to make almost any custom integration with other systems.
[#22] Task management & reminders of "open incidents"
E4: Enterprise edition/4
As previous, with more modules:
[#10] Journal of Claim
[#13] Documents in Journals
Complete document handling features, including storage of scans, photos, video-clips, PDFs and virtually any document or file type. Post (forward e-mail) to journals of vessel, incident, claim, cover or general repository.
[#14] Posting to Journals
[#23] Task planning
Task planning (Issue tracking) system with due/reminder control: Interactive journals of planned events/tasks.
[#24] Premium installments
[#26] Estimate of covers by inception
Extensive budgeting. (an extended set of budget entry points, opening for even more accurate estimates)
[#28] Participant role assignment
E5: Enterprise edition/5
As previous, with even more modules:
[#11] Cover journal
[#12] Vessel journal
[#25] Transactions
A full set of accounting functions for tracking any payments, estimates and planned costs.
[#27] Estimate of covers cost by expiry
[#29] Extended reports
Extensive cash flow analysis. An extended set of terms and payment points, opening for even more accurate cash flow management.
[#30] Vessel naming history on reports
[#35] Registration of insured customers
[#36] Commission for covers
Modules can be licensed separately from actually licensed editions. If your organization need one special module, but really does not need the other modules of the same edition level, then you may buy this special module at 50% off the price difference between the editions.
As a rule, you cannot buy separate modules from higher up than the next edition. This means that if you have E2, the E4 modules are not meant for you (at least you should upgrade to E3, then buy an extra module). Still, some exceptions can made if technical issues doesn't stop us, you would have to contact us in such special cases.
Capacity levels
Like the user level and edition level, the capacity is another measure to help keeping license costs at "a fair level". This way, organizations with moderate system requirements can get started at lower cost.
One or more data entry screens (asset/client/etc) are "locked" to a maximum number of active registrations as indicated in the list of available levels, currently ranging from C1 to C6.
With products oriented toward unit management (like ShipView and StoryView managing vessels and rigs) the limits are:
C1    : Up to 20 vessels or 10 rigs
C2    : Up to 50 vessels or 25 rigs
C3    : Up to 100 vessels 50 rigs
C4    : Up to 150 vessels 75 rigs
C5    : Up to 200 vessels or 100 rigs
C6: Open - Unlimited number of vessels/rigs
Inactive (sold/terminated) or historical items does not count toward the limit of registration. If your fleet consists mainly of small vessels, compared with the average of the international trade fleet, we may come to an arrangement with a price that reflect the total tonnage.
The other products that are client oriented have the following limits:
C1 : Up to 2 clients
C2 : Up to 5 clients
C3 : Up to 10 clients
C4 : Up to 15 clients
C5 : Up to 20 clients
C6: Open - Unlimited number of clients
Technical installation extras
Database options: Currently there's one database option besides the default option; Oracle.
The default system setup is for Microsoft SQL Server, choice of any editions of version 2000 or 2005. This choice will cost no extra, except if you need more licenses from Microsoft (the express edition is totally free). Selecting the extra database option will cost no more in initial/license fee, but will cost a little more in form of annual service fee, as indicated in the price matrix.
The extra database option can therefore easily be ordered at any time without making additions to the general license agreement. Technically, a switch to a database option, and possibly back, will work with no loss in data quality. The only cost of the database switching operation will in most cases be a few hours of consulting and assistance, if needed. As a general note; a database option can be discontinued from NetStorm if no one is using it, but this is unlikely to happen with Oracle, and certainly not with SQL Server.
Database options - Available levels:
D1    : Standard, no extra required - Use of Microsoft SQL Server database
D2: Optional use of Oracle database
Additional licenses
This special offer is most used with high volume licenses, but might be favorable for small scale situations as well. This is not really about extra users. The fact that a user can work with licenses other than the license of the employer can be quite convenient. The extra license cost is 25% of what a regular license (any of the license situations described on this page) would cost, provided that the users of your license are the only write level users of this new license.
Buying an extra license at 50% of the regular license will yield separate users with read rights for the additional license.
- Sample 1: Company A is providing services for company B. Company B wants ShipView's reports and summaries like company A has. Company B is already aware that it is a good idea to own the data they are (in some way) paying you to register for them. Company B don't need to and don't want to have their data mixed with the data of company A, and they gain extra security and portability advantages by letting isolating data in a separate license container. Associated with you, they buy an license at 25% off regular cost.
- Sample 2: Like sample 1, except that B wants to view (not edit) some or all data directly in ShipView, using the report selector etc. Associated with you, they buy an license at 50% off regular cost, upgradable to a full version.
See separate article on choosing license bundles, for maximum flexibility in managing access control.
Hosting
You can run your license data space directly from our servers from anywhere with Internet access. The access speed, reliability (percent up-time) and other quality and security measures (backup routines etc) can be leveled to your needs.
Hosting Service Level Agreements (SLA)
The hosting service prices in the above table is for the basic hosting level, which is what you probably want if you don't know of particular needs. Our range of hosting levels for TopView type products are:
NetStorm Hosting Base Level
NetStorm Hosting Level 2
   Adds 10% to the prices of base level
NetStorm Hosting Level 3
   Adds 15% plus NOK 8 000 to the prices of base level.
NetStorm Hosting Level 4
   Adds 15% plus NOK 40 000 to the prices of base level.
NetStorm Hosting Custom Level
   Please contact us for prices
NetStorm Hosting Base Level External
   Adds NOK 15 000 to the prices of base level.
NetStorm Hosting Level 2 External
   Adds 10% plus NOK 15 000 to the prices of base level.
NetStorm Hosting Level 3 External
   Adds 15% plus NOK 23 000 to the prices of base level.
NetStorm Hosting Level 4 External
   Adds 15% plus NOK 60 000 to the prices of base level.
NetStorm Hosting Custom Level External
   Please contact us for prices
Supplemental services
Other services are pricedby hour as consultancy services. A few samples:
License setup and modification
NetStorm reserves the right to charge a small fee for making license changes, but no more than the cost of a half man-hour. The charge is limited to the operations of adding, renaming, removing and disabling users, renaming the licensed company name, and downgrading license levels. On long term, the fee is assumed to be less used, as the process will be automated through the member pages.
Moving of a dataspace
NetStorm provides automated routines for extracting and inserting individual dataspace of licensees. Examples are moving a local installation up to a hosted installation and vice versa. Although this is not a particularly time consuming task, the customer may still be charged for the time spent on this task according to the prices of NetStorm consultancy services.
Installation
(Applies only to local hosting)
IT professionals can easily install ShipView in a local area network. But you may prefer having our on-site assistance when installing, especially if you are going to open the system for Internet access.
If a single day installation and introduction training is preferred, we recommend this 6 hour package: Installation services 09:00-12:00, introductory course 12:30-15:30. Installation will normally finish in less than 3 hours, so you could have more time for training if you are able to push forward.
Training
We recommend the 3 hour introduction course. Some time after that, when you are a bit familiar with ShipView, consider the ShipView Enterprise Strategy Workshop (3 to 5 hours).
Data conversion
NetStorm can assist you fully in converting data from other systems, to fit with ShipView. Note that some data may not be fully utilized, for example unstructured spreadsheets.
Change of prices
Prices in annual system service for already licensed products may be adjusted annually up to the general price increase, if stated in the license agreement, which we do in most cases. A price increase in hosting services will be published at least 30 days earlier. With these exceptions, all other prices can changes will be published on this page without further notice.